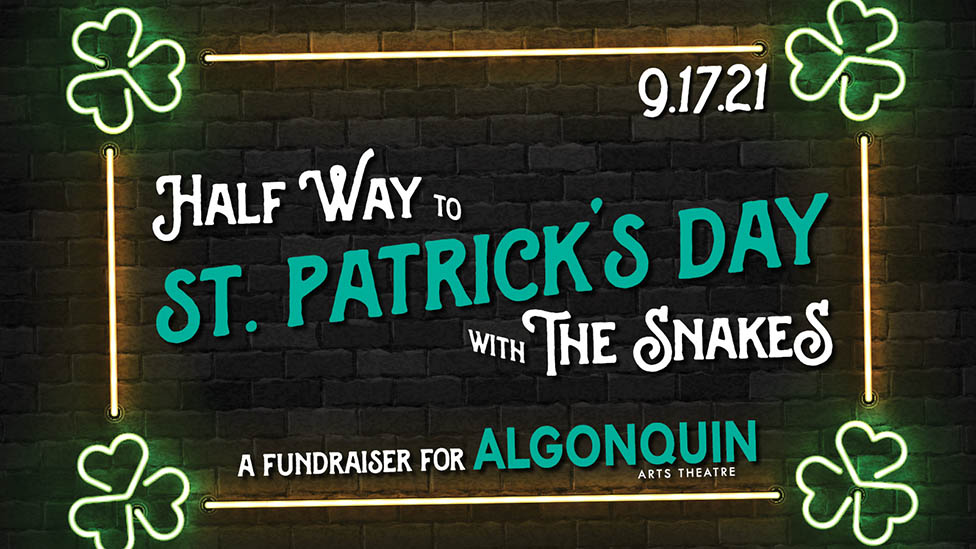 An Algonquin Arts Theatre Fundraiser
Half Way to St. Patrick's Day
Friday, September 17, 2021
With the Snakes
How lucky are we to live at the Jersey Shore? The Algonquin neon glows like the Emerald Isle this September as we welcome the Snakes to play great music with an Irish kick in a brand-new fall fundraiser!
Performances
Friday, September 17
8:00pm - Reception: 6:00 pm
Tickets
VIP Ticket: $99
Includes dinner from the Food Truck, free drinks and the best seats for the show.
Show Ticket: $35
Includes seats for the show & a cash bar.
Special Note: Our Box Office staff will be working to distanced seating between parties.
---
Masks will be required in the theatre for this event. Masks will be optional at the tented VIP reception.
To consider the health of our patrons, artists, staff, students and our community, Algonquin Arts Theatre will be requiring everyone to wear masks while attending indoor events. Masks may only be removed while actively eating or drinking. This policy is based on the CDC's recommendation for masks to be worn in crowded indoor venues when the local area has substantial or high transmission rates.
Thank you for your cooperation.
This event is being sold to our full capacity. Policies related to the pandemic - including things like masking - may change at anytime before the event. Please check back before the show. The only time a refunds or credits will be issued is if an event is rescheduled and you are unable to attend the new date, or if we are unable to accommodate all ticket holders due to local, state and/ or federal restrictions in place at the time of the event.
---
Event Information
VIP RECEPTION
Beginning at 6 pm, come gather under the tent outside the Algonquin. You'll have direct access through the side door of the theatre from your seats (and back) to the private VIP bar. /p>
Food is included with the VIP ticket price and will be served by the highly-regarded Shore Good Eats Food Truck.
For dinner, get started with two of the truck's famous gourmet egg rolls and then grab your main course. VIPs will have access to the open bar with beer & wine until intermission when the bar closes.
VIP Menu
Egg Rolls (Pick 2)
- 5 Cheese Mac & Cheese l
- Ribeye Cheese Steak w/Onion
- Kickin' Buffalo Chicken
Dinner Options:
- Cheeseburgers & Fries
- Fish & Chips
Synopsis
ABOUT THE SNAKES
Hailing from parts of New Jersey both far and wide, the Snakes are a traveling band of musicians who happily play their tunes wherever lovers of good music can be found. If whiskey and ale can also be found ... so much the better. (Disclaimer: Due to New Jersey ABC regulations whiskey will not be available at this event - but we'll have beer!)
Combining traditional instruments such as banjo, accordion and mandolin, with a foundation of guitar, bass and drums, the Snakes perform faithful renditions of classic folk songs. In addition, they put their own unique stamp on some driving rock tunes.
From the Dubliners to the Pogues ... from the Clancy Brothers to the Clash, good times and good tunes are had by all!
Sponsors
Interested in sponsoring a show at Algonquin Arts Theatre? Call 732-528-9211 for information.