Auditions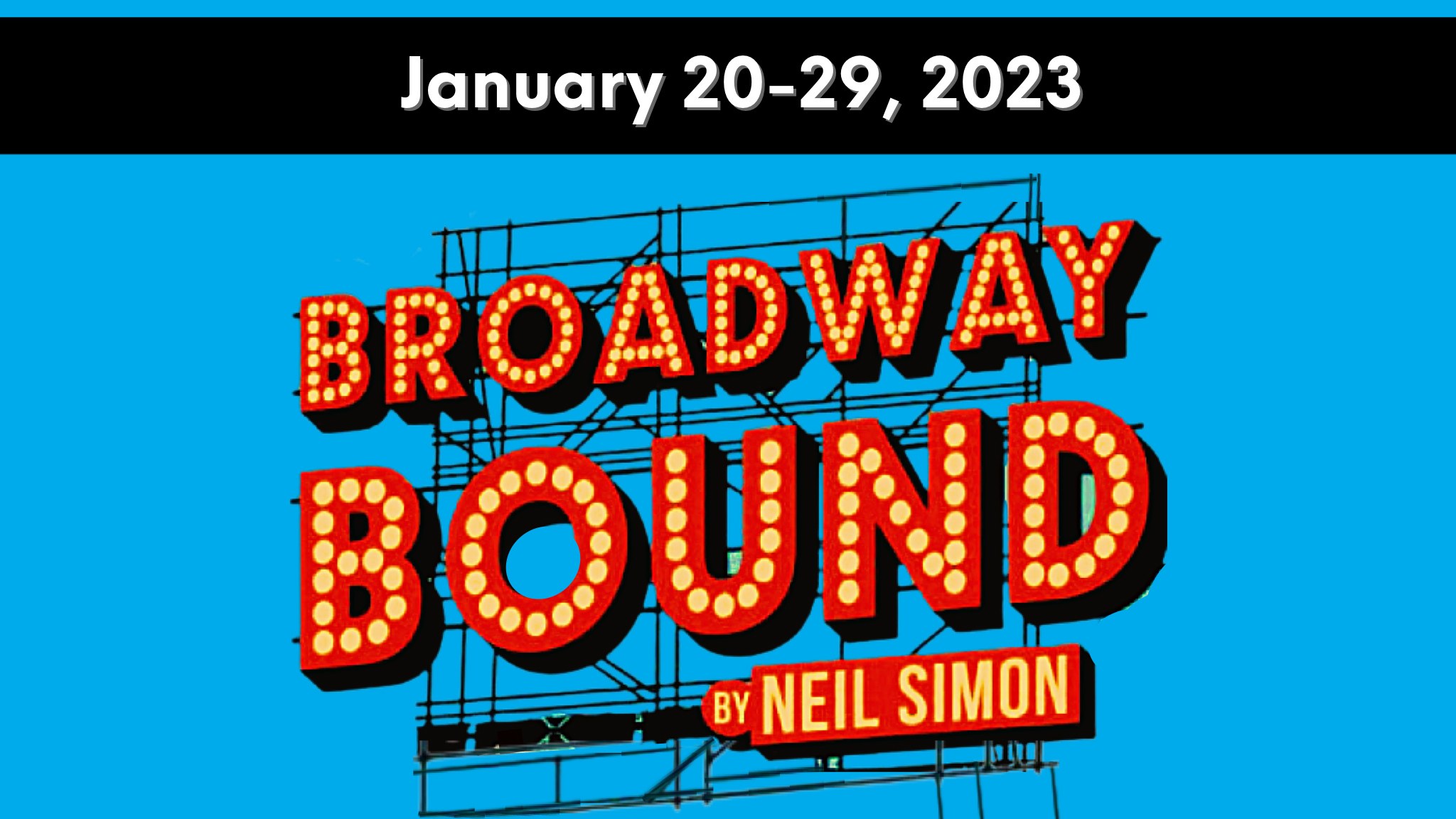 Broadway Bound by Neil Simon | Auditions
Six performances will run January 20 - January 29, 2023
Director: Anthony Greco
Stage Manager: Brendan Flanagan
ACCEPTANCE THROUGH AUDITION ONLY
In-person, Open Call
Monday, October 17th, open call from 6:30pm - 8:00 p.m.
Wednesday, October 19th, open call from 6:30pm - 8:00 p.m.
LOCATION
All auditions will be at the Algonquin Arts Theatre, 60 Abe Voorhees, Manasquan, NJ.
ACTORS MUST FILL OUT THIS AUDITION FORM PRIOR TO ATTENDING AN OPEN-CALL AUDITION:
https://forms.gle/Y1vfSVwu1nBLSHsT9
Please submit the following via this form:
Please have one monologue and one scene prepared from the provided show materials. These selections do NOT have to be memorized.
SHOW MATERIALS CAN BE ACCESSED HERE:
https://tinyurl.com/BroadwayBoundAuditions
REHEARSAL INFO:
Rehearsals will be at Algonquin Arts Theatre or in a nearby location. Rehearsals to begin in December of 2022. Exact rehearsal schedule will be set once the availability of all actors is learned but will take place during weekday evenings and weekends (depending on role and when called).
BEFORE YOU AUDITION, be advised that all actors must be available for rehearsals that are to be scheduled according to the actor's role. It is mandatory for actors to be available for all scheduled evening tech rehearsals (January 15th-19th) and six performances (January 20th-29th). Conflicts will not be accepted after the cast has been announced.
KATE JEROME
Female, Late 40s-50s
The mother of Eugene and Stanley Jerome, the daughter of Ben Epstein, and the wife of Jack. After thirty-three years of marriage, she confronts Jack with his extramarital affair; they do not speak to each other afterward. The next morning, she discovers that Jack has moved out to be with Audrey, the dying woman with whom he had an affair. Kate is silent at her discovery. Eugene states that Kate never does anything very exciting with the rest of her life, yet she never complains of sacrificing for others. She gave her love freely and rejoiced with the successes of her sons.
BEN EPSTEIN
Male, Late 60s-70s
Ben lives with his daughter, Kate and her family. He is a dedicated socialist and, according to Stan, has not laughed since the stock market crash of 1929. He does not move to Florida with his wife because he does not want to take money from his son-in-law and because he believes that Kate will need him because of her marital problems. Ben tries to convince Jack not to leave Kate, but Jack leaves anyway.
EUGENE MORRIS JEROME
Male, 20s
The son of Kate and Jack Jerome, brother of Stanley Jerome, and grandson of Ben Epstein. Eugene works in the stockroom of a music room and writes comedy skits with his older brother. He is often the narrator of the play and is the co writer of a CBS radio broadcast.
STANLEY JEROME
Male, Late 20s-early 30s
Kate and Jack's son and Eugene's older brother. Stanley, the manager of boys' clothing at Abraham and Straus, joins with Eugene to form a comedy writing team. Stan decides that Eugene and he must move out when his father says that he will never forgive his sons for the broadcast they created as it has made him unwelcome in his own home. After Stan negotiates a two-hundred-dollar-a-week deal for Eugene and himself with The Phil Silvers Show, the brothers finally are able to move into a place of their own.
BLANCHE MORTON
Female, 40s
Kate's prosperous (through marriage) younger sister. There is obvious tension between Kate and Blanche and between Ben and Blanche, which they sometimes seem to try to overcome. She takes care of their mother, but Blanche informs her father that his wife must move to Florida for health reasons and that Momma wants him to move with her.
JACK JEROME
Male, 50s-60s
Kate's husband, who admits to having an affair. Jack believes that he recognizes his family in the radio broadcast his sons write and informs them that he will never forgive them. The morning after the broadcast, Jack moves out. He remains with Audrey (the other woman) until her death. Jack makes peace later with his sons, and two years later, he marries again.
To sign up for our email audition list, please create an Account on our website. You must select 'YES' as your contact preference to receive email updates.
Once logged into your personal account, you can visit the 'Other Preferences' tab to opt in to audition email announcements. You can also email [email protected] to be placed on our audition list.