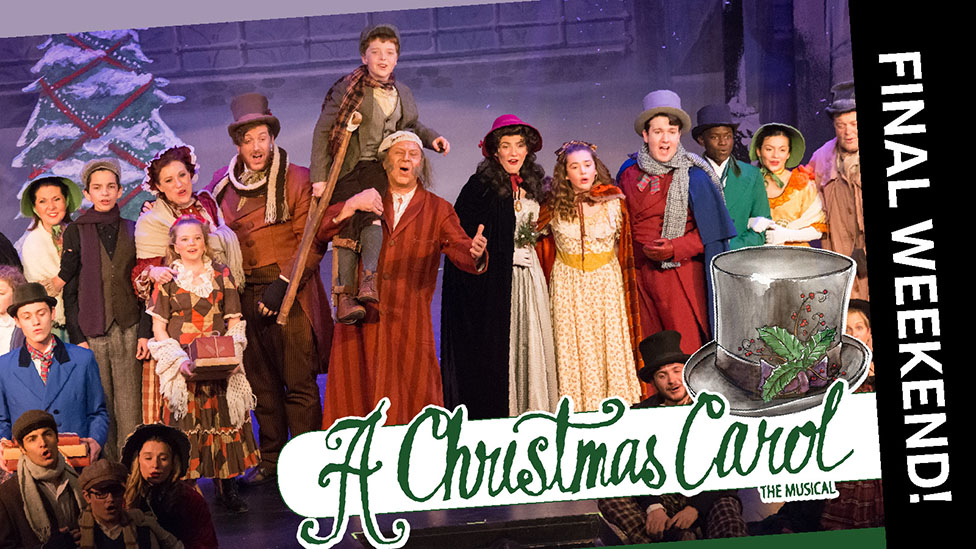 A Christmas Carol The Musical
November 30 - December 9, 2018
Ebenezer Scrooge and his ghostly encounters come to life in this lavish and thrilling Broadway adaptation of Dickens' Christmas classic.
Performances
Friday, November 30
7:45pm
Saturday, December 1
2:00pm
Saturday, December 1
7:30pm
Sunday, December 2
3:00pm - SOLD OUT
Friday, December 7
7:30pm
Saturday, December 8
2:00pm
Saturday, December 8
7:30pm
Sunday, December 9
3:00pm - SOLD OUT
Tickets
Event Information
Running time: Approximately 2 hours including intermission.
Intermission: Yes
Kid Friendly: Recommended for ages 5 & up - Please note that children under age 4 will not be admitted.
Synopsis
Broadway heavy hitters, Alan Menken (Disney's Beauty and the Beast, Disney's The Little Mermaid, Little Shop of Horrors) and Lynn Ahrens (Ragtime, Seussical, Once on This Island), breathe fantastic new life into the classic tale of A Christmas Carol.
Ebenezer Scrooge is a prosperous curmudgeon who believes that personal wealth is far more valuable than the happiness and comfort of others. With an infuriated "Bah! Humbug!" Scrooge summates his feelings of Christmas tidings and charitable giving, but he's forced to face his selfish ways when three ghosts on Christmas Eve lead him through his Past, Present and Future. Thanks to their guidance, Scrooge recognizes his faults and greets Christmas morning with a cheerful "Happy Christmas" before spending the day reconnecting and sharing love with those that mean the most to him.
A Christmas Carol is a spectacular adaptation of Charles Dickens' most well-known story.
Cast & Creative Team
Scrooge - JAN TOPOLESKI
Jacob Marley - NICK D'AMBROSIA
Ghost of Christmas Past - GINA TESCHKE
Ghost of Christmas Present - MARK REAGAN
Ghost of Christmas Future - LIZZY LEGREGIN
Bob Cratchit - RYAN PJ MULLHOLLAND
Tiny Tim - LIAM POLLOCK
Mrs. Cratchit - LAURIE TOOLE
Martha Cratchit - KENDAL THORNER
Mr. Fezziwig - BRENDAN FLANAGAN
Mrs. Fezziwig - LINDSEY MONACO
Young Marley - NICK HABERSTROH
Young Ebenezer - SHAUN KATZ
Emily - JULIA LUPI
Nephew Fred - SEAN DICKINSON
Sally - BRIDGET HUGHES
Jonathon, the Turkey Boy - ALEXANDRE TREMBLY
Scrooge at 12 - JAMES GRANDE
Mrs. Mops - LISA JONES
Ensemble - JOHN ALBRECHT
Ensemble - GAVIN BAILEY
Ensemble - KENLEY BOTTLES
Ensemble - ARIANA CENTAMORE
Ensemble - SOPHIE CREED
Ensemble - CORY DAMATO
Ensemble - DARREN DEANGELO
Ensemble - STEPHEN DOUCETTE
Ensemble - ALEX DUBINSKY
Ensemble - FRANCES FORTE
Ensemble - MARIA GUERRERO
Ensemble - VALERIE GUERRERO
Ensemble - EDWARD ITTE
Ensemble - LAURA JACKSON JAHNKE
Ensemble - JADE KEHR
Ensemble - ZOE KENNEY
Ensemble - LIA LEGREGIN
Ensemble - ALEXANDER LYNCH
Ensemble - ERIN McEVOY
Ensemble - JOE MINNELLA
Ensemble - BRIAN POLLOCK
Ensemble - SIDNEY POLLOCK
Ensemble - RUTH ROCKY
Ensemble - RJ VANDENBROUCK
Ensemble - KASSANDRA WEBB
Ensemble - CHRIS WILSON
Ensemble - KELLI WILSON
Director - Anthony Greco
Choreographer - Jessica O'Brien
Musical Director - Kara Leigh
Stage Manager - Chip Heptig
Credits
A CHRISTMAS CAROL The Musical
Music by ALAN MENKEN
Lyrics by LYNN AHRENS
Book by MIKE OCKRENT & LYNN AHRENS
Based on the story by Charles Dickens
Original Choreography by Susan Stroman
Originally directed by Mike Ockrent
Originally Presented by Radio City Entertainment at the Theater at Madison Square Garden
A Christmas Carol (Broadway Version) is presented through special arrangement with Music Theatre International (MTI). All authorized performance materials are also supplied by MTI.
www.MTIShows.com
Sponsors