Membership Program
Membership
Algonquin Membership offers our patrons a way to support the theatre while receiving great benefits including presale opportunities, discounts, ticket exchange and more!
Contact our Box Office at 732-528-4336 for more information. Don't forget that Membership donations are tax deductible!
Call 732-528-9211 to become a member!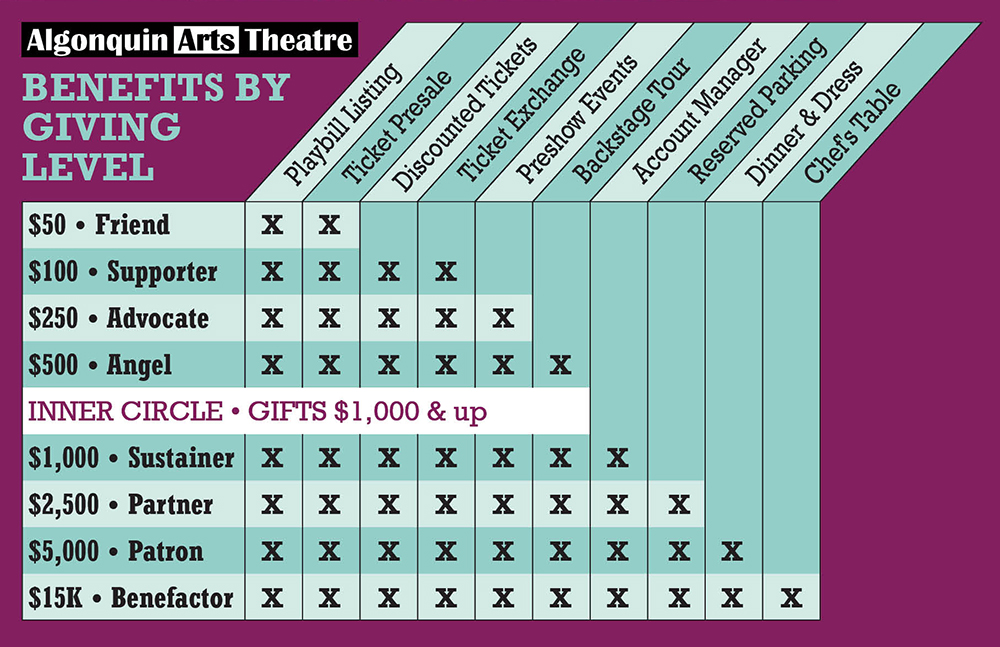 Membership Levels
Members receive the benefits at the level of contribution, as well as all benefits from lower membership levels for 1 year from their anniversary date.
Friend ($50-$99)
Playbill Listing: Full name of donor will be listed unless otherwise specified.
Ticket Presale: Members can access ticket presales for many Algonquin events. Must provide an email address to receive this benefit.
Supporter ($100-$249)
Discounted Tickets: Members can receive 15% off all full (adult) price tickets. Restrictions may apply. Discount offers cannot be combined.
Ticket Exchange: Members can exchange seats up to three days prior to a performance. Not all titles will be eligible for ticket exchange.
Advocate ($250-$499)
Preshow Events: Members will be invited to attend special events prior to select shows throughout the season.
Angel ($500-$999)
Backstage Tour: Our Development Department will contact eligible members to schedule a backstage tour of the theatre.
Inner Circle Membership Levels
Sustainer ($1,000-$2,499)
Account Manager: Receive a dedicated account manager who will assist with ticket purchases, exchanges and coordinate delivery of member benefits.
Partner ($2,500-$4,999)
Reserved Parking: The account manager will confirm reserved parking for performances to which Partner members have ordered tickets.
Patron ($5,000-$14,999)
Dinner & Dress: We will treat you to dinner prior to a dress rehearsal for an Algonquin Arts Theatre production. After dinner, members will be the first patrons to see a production as a guest of the Producer & Director.
Benefactor ($15,000 & up)
Chef's Table: Be our guest at our Annual Gala and receive a top level ticket as well as a special Chef's Table seat at dinner before the show.
Member benefits subject to change. Exclusions may apply. For membership questions call 732-528-9211 or email [email protected].