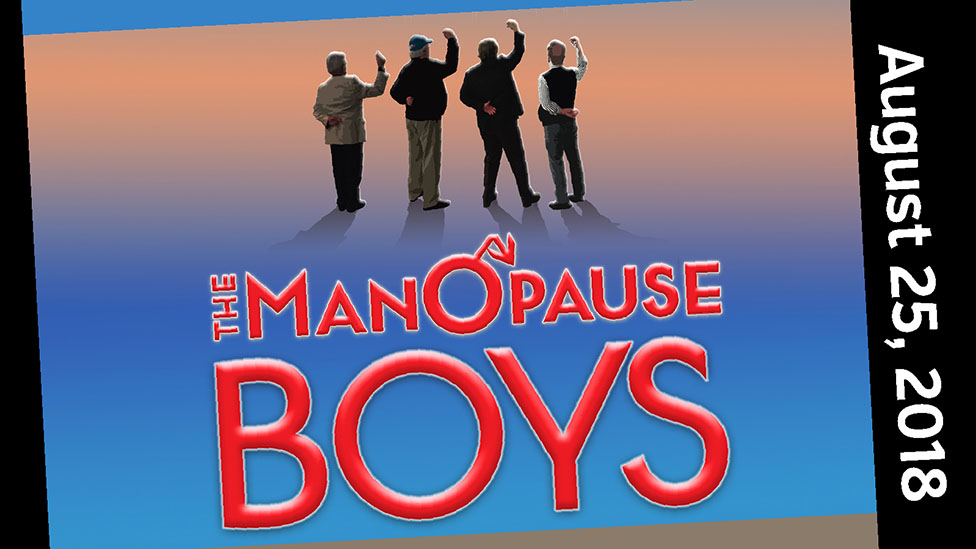 Van Zandt & Millmore's
The ManOPause Boys
Saturday, August 25, 2018
Fifty is the new funny in Billy Van Zandt and Jane Milmore's musical revue that takes a hysterical look at men reaching the pitfalls and triumphs of middle age.
Performances
Saturday, August 25
8:00pm - SOLD OUT
Tickets
Premium: $40 (Adult), $37 (Senior), $31 (Student)
Regular: $32 (Adult), $29 (Senior), $23 (Student)
Event Information
Running time: Approximately 1 hours, 20 minutes
Intermission: No
Kid Friendly: No
Synopsis
Middle age was never so funny! Sold-out audiences across the country have been loving this hysterical musical from the playwriting team The New York Times calls "A Riot!" Four guys finally open up and confess the agony and hilarity of going through MANOPAUSE. Ladies, now is your chance to find out what men are really thinking as they navigate everything from the depths of expanding waistlines to the heights of Viagra. And all's well that ends well as our mid-life quartet concludes with the rousing revelation that you'll never be younger than you are today!
Through such songs as "My Prostate is the Size of a Buick," "I Just Took a Pill Called Viagra," "My God I Am My Father," "My Get Up and Go Just Got Up and Went," and "In Praise of the Older Woman," the production reaches the conclusion that 50 is the new funny!
Playwrights Billy Van Zandt and Jane Milmore are Monmouth County natives. After leaving New Jersey for the West Coast, they have written for some Hollywood's biggest TV stars including Bob Newhart and Don Rickles. Their theater work has been popular along the Jersey Shore for decades!
Credits
Presented by Algonquin Arts Theatre
Sponsors
Interested in sponsoring an event at Algonquin Arts Theatre? Call 732-528-4336 for information.