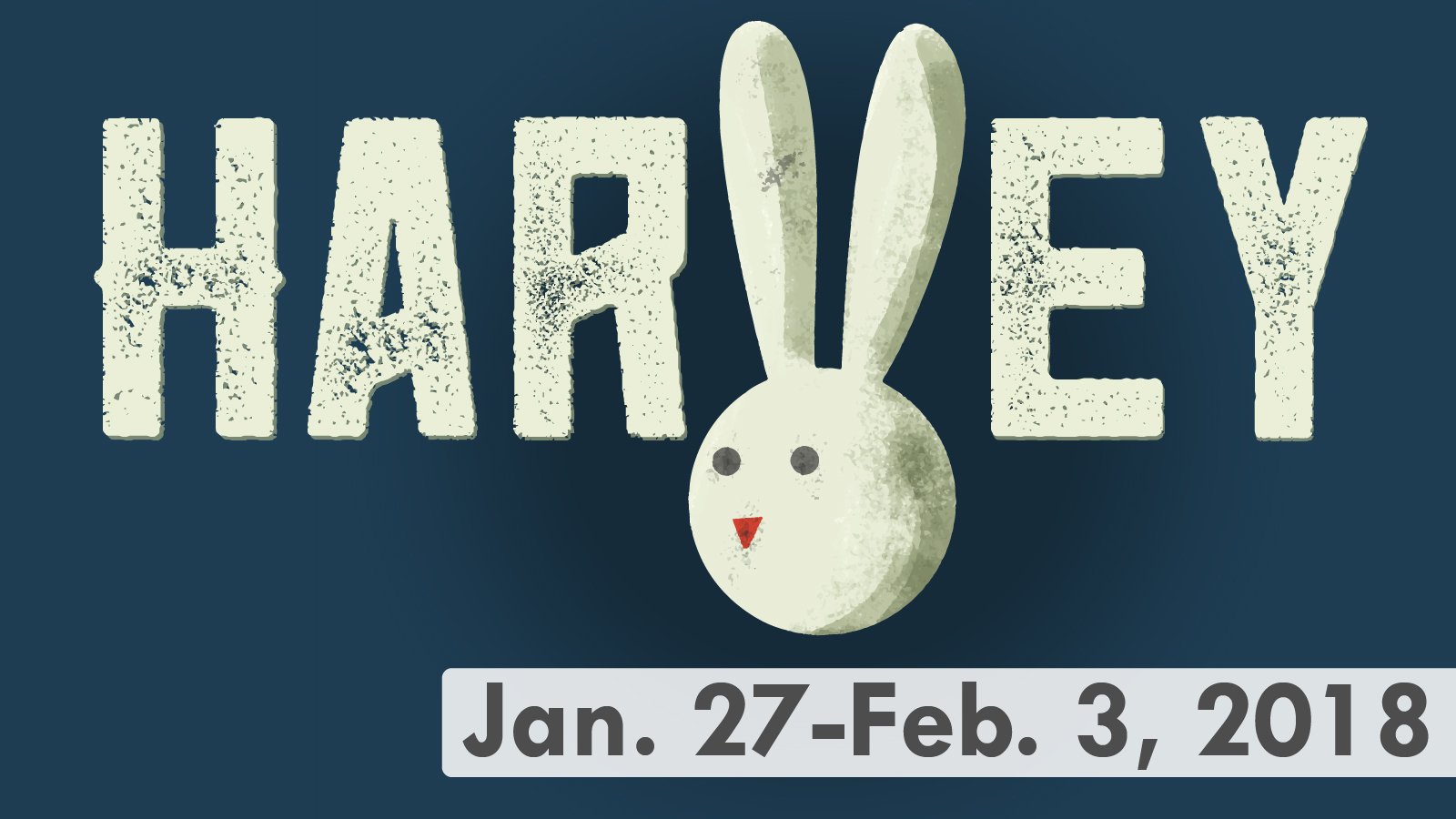 Harvey
January 27 - February 3, 2018
Elwood P. Dowd insists on including his friend Harvey in all of his sister Veta's social gatherings. Trouble is, Harvey is an invisible six-and-a-half-foot-tall rabbit.
Performances
Saturday, January 27
2:00pm
Saturday, January 27
8:00pm
Sunday, January 28
3:00pm
Friday, February 2
8:00pm
Saturday, February 3
2:00pm
Saturday, February 3
8:00pm
Tickets
Premium: $40 (Adult), $37 (Senior), $31 (Student)
Regular: $32 (Adult), $29 (Senior), $23 (Student)
Group Rates Available: Learn More
New: Please Note That Advertised Prices Include All Per Ticket Fees
Event Information
Running time: Approximately 2 hours
Intermission: Yes, between Act I & Act II
Kid Friendly: Recommended for ages 8 & up - Please note that children under age 4 will not be admitted.
Synopsis
To avoid future embarrassment for her family - and especially for her daughter, Myrtle Mae - Veta decides to have Elwood committed to a sanitarium. At the sanitarium, a frantic Veta explains to the staff that her years of living with Elwood's hallucination have caused her to see Harvey also, and so the doctors mistakenly commit her instead of her mild-mannered brother. The truth comes out, however; Veta is freed, and the search is on for Elwood, who eventually arrives at the sanitarium of his own volition, looking for Harvey. But it seems that Elwood and his invisible companion have had a strange influence on more than one of the doctors. Only at the end does Veta realize that maybe Harvey isn't so bad after all.
This Pulitzer Prize-winning comedy debuted on Broadway in 1944 and ran for more than 1,750 performances as one of the longest-running Broadway plays. After closing in 1949, the 1950 film adaptation starred James Stewart as Elwood. More recently editions have featured a pair sitcom stars as Elwood: Night Court's Harry Anderson for a 1998 TV movie and Big Bang Theory's Jim Parsons for a Broadway revival in 2012.
Cast & Creative Team
Cast:
Myrtle Mae Simmons: KEELIN STARK
Veta Louise Simmons: JADE GREENE
Elwood P. Dowd: FRANK FALISI
Mr. Johnson: LAWRENCE (CHIP) HEPTIG
Ethel Chauvenet: KAREN BOWDEN
Ruth Kelly, R.N: LIZZY LEGREGIN
Duane Wilson: KEVIN McGEE
Lyman Sanderson, M.D: EDDIE ROGERS
William R. Chumley: STEVE BARTLOW
Betty Chumley: ALEX COFFEY
Judge Omar Gaffney: BRETT LOWELL
E. J. Lofgren: LAWRENCE (CHIP) HEPTIG
Production Team:
Producer: JAN TOPOLESKI
Director: RUBEN NAGY
Stage Manager: OLIVIA VERNI
ASM: JULIE NAGY
Set Designer: JASON GREENHOUSE
Lighting Designer: ROMAN KLIMA
Costumes: PLAYTIME COSTUMES
Props: MARYANNE VITELLO
Credits
HARVEY
by Mary Chase
HARVEY is presented by special arrangement with Dramatists Play Service, Inc., New York.
An Algonquin Arts Theatre production.
Sponsors
Peter A. Flihan & Linda P. Hejduk