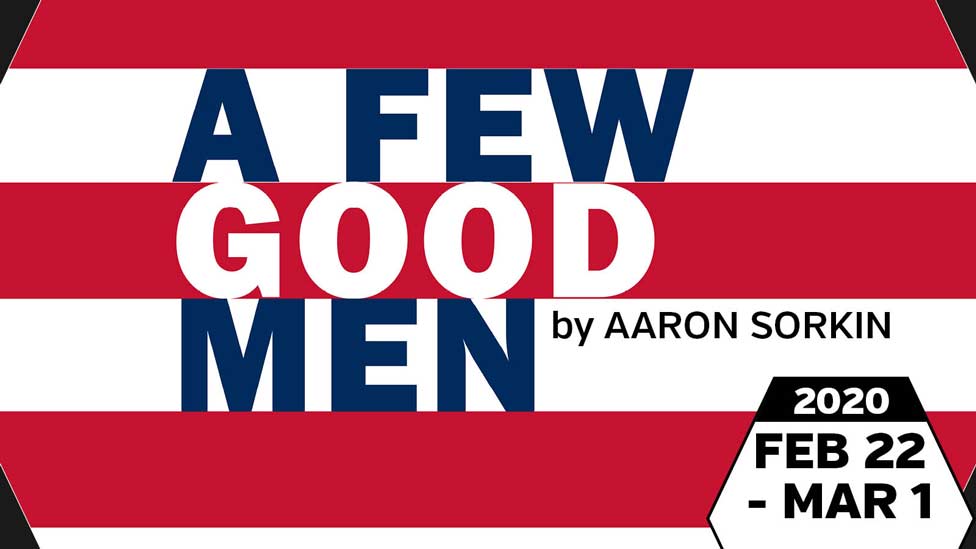 A Few Good Men
February 22 - March 1, 2020
by Aaron Sorkin
Aaron Sorkin's unforgettable A Few Good Men tells the story of military lawyers who uncover a high-level conspiracy while defending two United States Marines accused of murder.
Performances
Tickets
Subscriptions available: Learn More.
Pricing
Premium: $40 (Adult), $37 (Senior), $31 (Student 4 & up)
Regular: $32 (Adult), $29 (Senior), $23 (Student 4 & up)
Event Information
Running time: Approximately 2 hours, including intermission.
Intermission: Yes
Kid Friendly: Recommended for ages 13 & up - Please note that children under age 4 will not be admitted.

Synopsis
US Navy Lieutenant Daniel Kaffee, an unmotivated lawyer always looking for a plea bargain, is assigned to represent two marines on trial for the murder of another marine. Kaffee is joined by US Navy Lieutenant Commander Jo Galloway, who convinces him that the murder was ordered by a commanding officer.
Instead of dropping the case, Kaffee goes on to call Colonel Nathan R. Jessep to the stand, in order to uncover the conspiracy. Kaffee takes a chance on Jessep, who yells the iconic line, "You canít handle the truth!"
The play was adapted into a 1992 film directed by Rob Reiner with a star-studded cast, including Tom Cruise, Jack Nicholson and Demi Moore.
The play's impactful writing and intense, dramatic content have made A Few Good Men an important name in the world of theater.
Cast & Creative Team
This show has not yet held auditions. Visit our
audition page
for more information.
Credits
A FEW GOOD MEN
Written by Aaron Sorkin
Broadway Production Presented by David Brown, Lewis Allen, Robert Whitehead, Roger L. Stevens, Kathy Levin, Suntory International Corporation and The Shubert Organization
A FEW GOOD MEN is presented by special arrangement with Samuel French, Inc.
Sponsors
Peter A. Flihan and Linda P. Hejduk
&amp
Mona and John Kirk