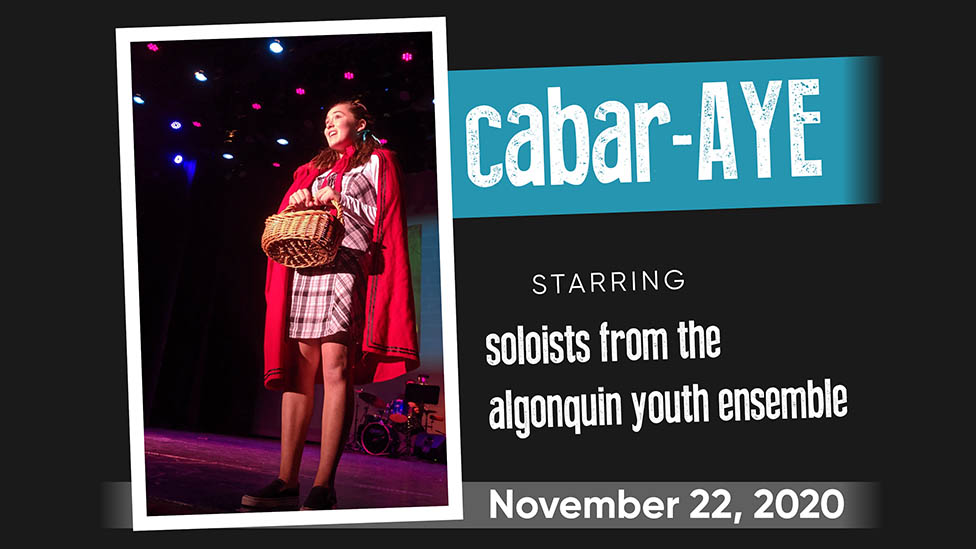 Live Indoor Concert
Cabar-AYE
Sunday, November 22, 2020
The Algonquin Youth Ensemble's Cabaret
Caber-AYE will be a cabaret-style concert showcasing 12-15 Algonquin Youth Ensemble performers singing a variety of music from Broadway.
---
Performances
Sunday, November 22
3:00pm
Tickets
STOP! BEFORE YOU PURCHASE ...
... please take a moment to carefully review all of the policies below. We are working hard to provide the best experience possible to all patrons who wish to attend these events. Given that we are operating in an evolving situation, Algonquin Arts Theatre reserves the right to amend policies at any time.
TICKET PRICES
All Seats: $25
TICKET PURCHASING
Online purchases are limited to parties of 2 seated together. A limit of 4 (2 blocks of 2) tickets are available per online order.
To purchase a single seat, or to group your party of 3 or more together, please call the Box Office at 732-528-9211 and we will configure seating for you.
ATTENDEE POLICIES
Patrons should not attend a performance and contact the Box Office to request a refund if:
1) They feel ill in any way.
2) Patron or a member of the household has tested positive for COVID-19 or is awaiting COVID-19 test results.
3) They are under quarantine following COVID-19 exposure.
4) They have traveled to a state on the NJ quarantine list in the last 14 days.

THEATRE POLICIES
Patrons and staff must wear masks at all times.
Both outer lobby and inner lobby doors will open 45 minutes prior to showtime (no indoor waiting area is available).
Attendance is capped at 125 per show. Seating will be distributed throughout the entire theatre to maximize distance between patrons. Patrons are required to sit in their ticketed seats.
Performers will be at least 12 feet from the audience. Row A, center, is not available for purchase. Performers are not required to wear masks on stage.
All areas will be cleaned and sanitized prior to each performance.
Our HVAC system will run constantly to circulate and filter air. As the weather turns colder, this will make the theatre feel cooler. Please bring a sweater.
Lobby Restrooms will be restricted to a capacity of 3 people.
Patrons are required to distance (6 feet) while waiting online for entry, restrooms or at our concession stand.
Intermission: For shows that have intermission, please do not congregate in the lobby or aisles. Please stay at your seating area or take a quick walk outside. With a 125-person audience, restroom lines will move very quickly. Intermission will not be shorter than 10 minutes from lights up to lights down.
AMENDED TICKET POLICIES
Our standard Ticket Policies remain in place, with the addition of the pandemic-specific policies noted below:
Our no refunds or exchanges policy remains in place, except:
1) If a performances cannot take place as scheduled for pandemic-related reasons (government restriction, exposure, artist availability, etc), a refund will be available within 7 days of the original performance date.
2) Patrons who cannot attend due to illness, a positive COVID-19 test, exposure to COVID-19 or quarantine rules can receive a refund if that refund is requested prior to the start of the performance (please email or leave a voicemail if we cannot answer the phone).

Will Call will operate in the theatre lobby. Will Call ticket holders should enter with their entire party via the single lobby door to check in on the day of the show.
No group rates are available for events that are capped at 250 or fewer attendees.
Cast & Creative Team
Featuring:
Gavin Bailey
Alexandra Bauman
Sophie Creed
Olivia Crowe
Erin Downey
Madelyn Fernandez
Casey Finnegan
Kaitlyn Hulme
Olivia Jones
Brayden Morgan
Sophia Nelson
Donny Nikola
Liam Pollock
Sidney Pollock
Kendall Thorner
Musical Director: Stephen Strouse
Sponsors