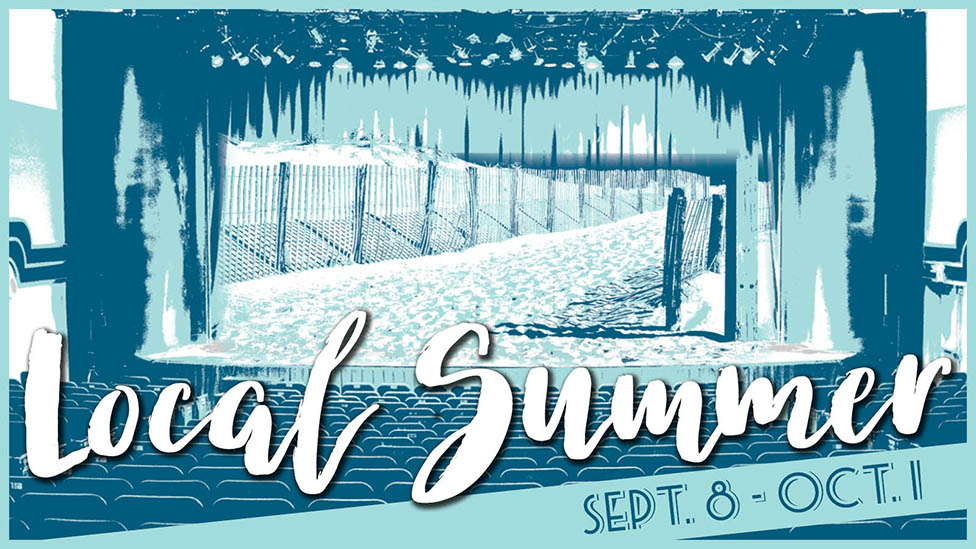 A 24-day marathon fundraiser
Local Summer Series
September 8 - October 1, 2020
24 days. 24 stories. 24 performances.
Local Summer. The crowds are gone. The weather is nice. It's THE best time to live at the shore. To mark the occasion, Algonquin Arts Theatre launches our Local Summer Series. For 24 days, we'll deliver online performances & stories that show why the performing arts mean so much, while raising the funds to help Algonquin weather this pandemic-induced intermission.
Event Information
24 days. 24 sponsors. 24 performing artists. 24 lives impacted by the Algonquin.
---
LOCAL SUMMER SCHEDULE
After a Local Summer Launch Party concert on Wednesday, Sept. 2, behind the theatre, beginning Tuesday, Sept. 8, the Local Summer Series will include daily performances and stories delivered to your inbox or viewable online via social media & our website. The Series will include two more live 'dockside' concerts in our parking lot using our loading dock as the stage. ).
---
THE LOCAL SUMMER CLUB
Club membership includes a T-shirt and access to a reserved place for you and 1 guest to our Dockside Concert Series. (Must call to reserve a space 48 hours in advance). Local Summer Club Members also receive $100 membership benefits for 1 year until October 1, 2021. Entire amount of Club Membership will be counted toward the Matching Fund Drive.
---
LOCAL SUMMER 50-50 CASH RAFFLE
Head into Fall with more cash in your pocket! We'll hold a 50-50 cash raffle drawing on October 1, 2020. Tickets are 1 for $20, 3 for $50 and 10 for $150. The last winner of our 50-50 took home more than $4,900 in June!
---
LOCAL SUMMER T-SHIRT SALES
Local Summer T-Shirts are available for pre-order now!
---
$24,000 MATCHING FUNDS DRIVE
This event includes a fundraising appeal with a match of up to $24,000 in contributions. Individuals can donate any amount. No donation is too small. No donation is too big. Thank you to Algonquin board member Janice Blanton for pledging $24,000 to this match!
---
LOCAL SUMMER SPONSORSHIP
Sponsorships of each of the 24 days are available for $1,000. If there's a special date you want to recognize between Sept. 8 and Oct. 1, please act fast as dates will be offered on a first-come, first-served basis.
---
Synopsis
Dockside Concerts
We're thrilled to be hosting our first live, in-person concerts in a looong time. Look for more details soon on our three dockside concerts coming in September.
Showtime is 7 pm. Rain date is the next night.
These are free shows. Throw on a mask, bring your chair and enjoy the show! Grab takeout from a local restaurant and enjoy dinner & a show!
Cast & Creative Team
24 Stories
As part of our Local Summer Series, we will feature the stories of 24 individuals or families that have had their life improved through experiences at the Algonquin as a patron, student, performer, volunteer or staff member.
Has the Algonquin made your life better? Perhaps provided you with a creative outlet? Do you have a favorite memory at the theatre? A great experience shared with family & friends? Maybe we provided a chance to develop personally or professionally, launching a career or lifelong love for the arts?
We are asking for anyone who has a story to share one through an email essay contest. Email us your short essay of no more than 250 words to [email protected]. We encourage you to include specific examples of a special moment or specific impact. If available, please include a relevant digital photo with your submission. Don't delay: Winners will be selected on a rolling basis. The deadline is Sunday, August 16.
The Algonquin's staff will select 24 winners who will be asked to read their essay on video (or we'll find an actor to read your story). One story per day will be shared via email and social media during the Local Summer Series starting September 8. The winners will also be invited to attend a special event at a future date to be determined.
24 Performers
Hundreds of talented performers cross the Algonquin stage each year. With the theatre currently dark, the Local Summer Series will feature one video performance each day of Local Summer to highlight the amazing talent you can see here at the shore.
If you are interested in being a part of the video performance component, please email [email protected] We're looking for singers, dancers, musicians who perform individually or with a group. Short films will also be considered.
Please email [email protected] to inquire how you can become involved.
Sponsors
Broadway Ray
C. Keith Henderson and Associates
Diane Turton, Realtors
Ed & Meagan O'Malley
Falkinburg's Tree Expert Company
I.F.C. United
Kitch Organic
Manasquan Bank
NJSwim
O'Malley, Surman & Michelini
Rella's Italian Tavern
ShoreHaven Wealth Partners
Smart Fleet USA
The Folk Agency Realtors, Inc.
Media Partner
Star News Group
Become a Local Summer Sponsor: $1,000
Sponsors will receive: Promotion through social media posts, emails and videos on the day of the sponsorship + recognition in publicity and on our website during, before and after the event. Name/Logo will appear on the back of our Local Summer T-Shirt and each sponsor receives 2 shirts.
Speak with an Algonquin Board Member or call 732-528-4336 for more information.