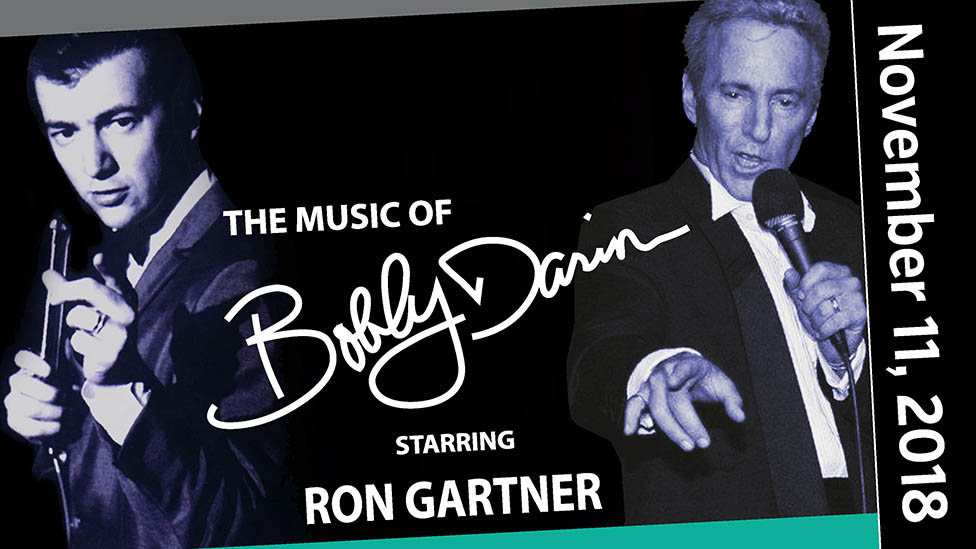 The Music of Bobby Darin
Sunday, November 11, 2018
Starring Ron Gartner
Celebrate the music of teen idol, singer songwriter, movie star and nightclub legend Bobby Darin including Mack The Knife, Splish Splash, Dream Lover, Beyond the Sea and Clementine.
Performances
Sunday, November 11
3:00pm
Tickets
Premium: $40 (Adult), $37 (Senior), $31 (Student)
Regular: $32 (Adult), $29 (Senior), $23 (Student)
Event Information
Running time: Approximately 2 hours
Intermission: Yes

Synopsis
Had he lived, he could have been bigger than Sinatra. Teen Idol, Singer-Songwriter, Movie Star and Nightclub Performer Bobby Darin – his music, his life and times - are celebrated in grand style by NYC entertainment agent and showman Ron Gartner, with his fantastic band. Snap your fingers to great Darin hits like Mack The Knife, Splish Splash, Dream Lover, Beyond the Sea, Clementine, and many many more. Hear the backstage stories about this Entertainment Phenomenon who learned at an early age that he was doomed to die an early death and was determined to "do it all" before he expired. Come, honor the legacy of the swingin-est guy who ever put on a tux in a show that covers everything from Darin's rock 'n' roll days to his legendary Evening at the Copa.
Credits
Presented by Algonquin Arts Theatre
Sponsors
Interested in sponsoring an event at Algonquin Arts Theatre? Call 732-528-4336 for information.