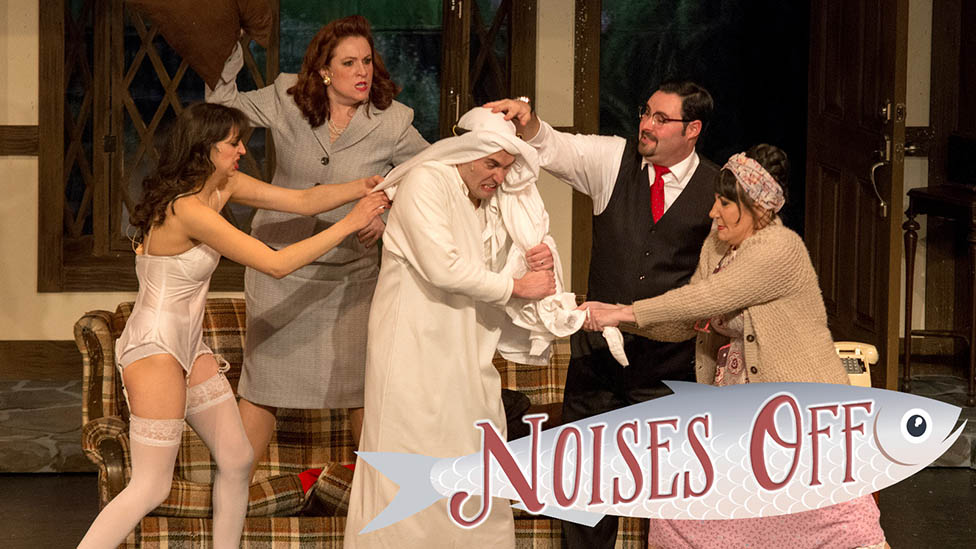 Noises Off
January 26 - February 2, 2019
Brace yourself for comic chaos with the rip-roaring play within a play. The NY Post says: "The funniest farce ever written!"
Performances
Friday, February 1
8:00pm
Saturday, February 2
2:00pm
Saturday, February 2
8:00pm
Tickets
Event Information
STRONG LANGUAGE, MATURE THEMES
Running time: Approximately 2 hours, 30 minutes, including 2 intermissions.
Intermission: Yes
Kid Friendly: Recommended for ages 13 & up - Please note that children under age 4 will not be admitted.
Synopsis
The Opening Night performance of the farce Nothing On is just hours away, and as the cast stumbles through their final dress rehearsal, things couldn't be going any worse. With lines being forgotten, love triangles unraveling and sardines flying everywhere, it's complete pandemonium... and we haven't even reached intermission! Can the cast pull their act together on the stage even if they can't behind the scenes?
Brace yourself for comic chaos with a rip-roaring new production of Michael Frayn's (Copenhagen) beloved comedy Noises Off, starring an incomparable cast of Broadway favorites under the direction of Tony and Olivier Award nominee Jeremy Herrin (Wolf Hall Parts 1 & 2).
Full of shocking surprises and gut-busting humor, Noises Off is the classic show-within-a-show that "voyages to the outer limits of hilarity" (The New York Times).
Cast & Creative Team
Garry Lejeune: Anthony Greco
Poppy Norton-Taylor: Ariana Centamore
Tim Allgood: Brendan Flanagan
Lloyd Dallas: Derek Hulse
Dotty Otley: Lauren Cooke
Belinda Blair: Laurie Toole
Fredrick Fellowes: Michael Morch
Selsdon Mowbray: Paul Caliendo
Brooke Ashton: Samantha Reyne
Director: Jan Topoleski
Stage Manager: Chip Heptig
Credits
NOISES OFF
By Michael Frayn
NOISES OFF is presented by special arrangement with SAMUEL FRENCH, INC.
Sponsors
Suzanne B. Van Schoick & Edwin C. O'Malley of Diane Turton, Realtors, Bay Head Office