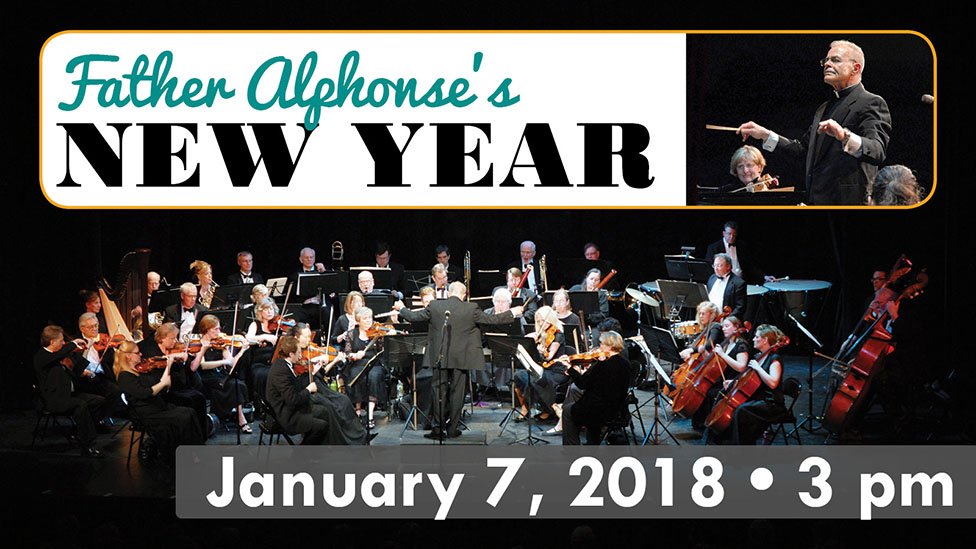 Father Alphonse's New Year
Sunday, January 7, 2018
Get 2018 started on the right note with Father Alphonse's New Year.
Performances
Tickets
Premium: $53 (Adults), $50 (Seniors), $43 (Students)
Regular: $45 (Adults), $42 (Seniors), $35 (Students)
Discounts for groups of 12 or more
Subscriptions: On Sale Now
Member Tickets: On Sale Thursday, Aug. 24 at 1 p.m.
Single Tickets: on Sale Friday, Sept. 1 at 1 p.m.
Three-Concert Subscription:
Premium: $135
Regular: $111
New: Please Note That Advertised Prices Include All Per Ticket Fees
Event Information
Runtime: 2 hours
Intermission: Yes
Kid Friendly: Yes
Synopsis
The Holiday Season is not complete until Father Alphonse Stephenson and The Orchestra of St. Peter by the Sea celebrate the New Year. The tradition continues with an afternoon of waltzes and other music by Austrian composers as well as some surprises.
Sponsors
Concert Sponsored by the George & Ruth Harms Foundation
Orchestra Series Sponsor: Janice Blanton in memory of her parents, Greta and Bill