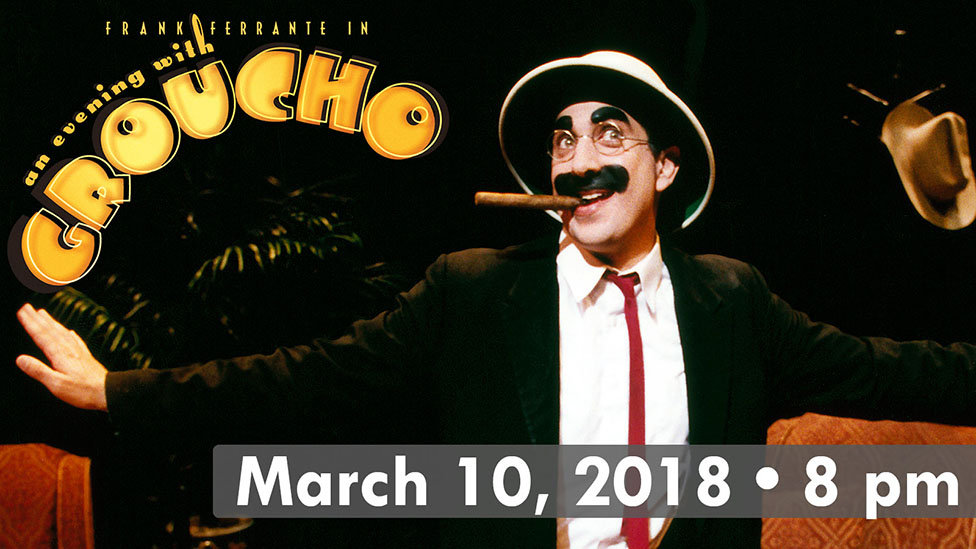 An Evening with Groucho
Saturday, March 10, 2018
Starring Frank Ferrante
Frank Ferrante has collaborated with the Marx family for decades, and for one night only at the Algonquin recreates his New York, London and PBS triumph as the legendary Groucho Marx in this fast-paced comedy packed with songs, stories and shenanigans.
Performances
Saturday, March 10
8:00pm
Tickets
Premium: $45 (Adult), $42 (Senior), $36 (Student)
Regular: $37 (Adult), $34 (Senior), $28 (Student)
Group Rates Available: Learn More
New: Please Note That Advertised Prices Include All Per Ticket Fees
ON SALE TIMELINE
Members Buy Now - Call 732-528-9211
Individual Tickets Go On Sale Monday, August 21, 2017 at 12 noon
Event Information
Running time: Approximately 1 hour, 45 minutes
Intermission: Yes
Kid Friendly: Yes
Synopsis
Award-winning actor/director/playwright Frank Ferrante recreates his PBS, New York and London acclaimed portrayal of legendary comedian Groucho Marx in this fast-paced 90 minutes of hilarity. The two-act comedy consists of the best Groucho one-liners, anecdotes and songs including "Hooray For Captain Spalding," and "Lydia, the Tattooed Lady." The audience literally becomes part of the show as Ferrante ad-libs his way throughout the performance in grand Groucho style. Accompanied by his onstage pianist, Jim Furmston, Ferrante portrays the young Groucho of stage and film and reacquaints us with the likes of brothers Harpo, Chico, Zeppo and Gummo, Charlie Chaplin, W.C. Fields, Greta Garbo, Marx foil, Margaret Dumont and MGM's Louis B. Mayer. A show perfect for all ages!
Credits
Presented by Algonquin Arts Theatre
Sponsors
Interested in sponsoring an event at Algonquin Arts Theatre? Call 732-528-4336 for information.