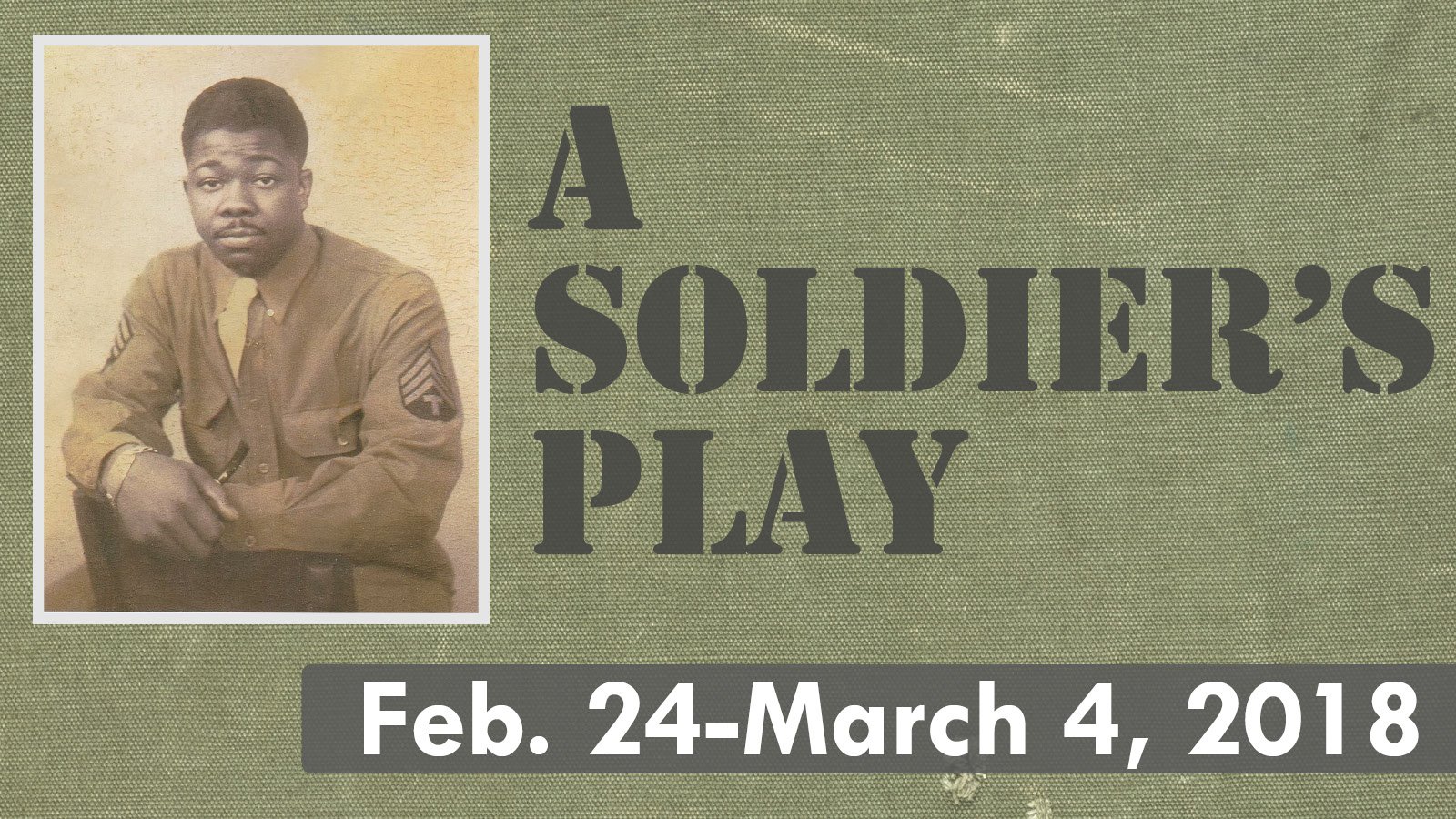 A Soldier's Play
February 24 - March 4, 2018
A Pulitzer Prize-winning whodunit that investigates the murder of a soldier in a black company based in Louisiana during World War II.
Performances
Saturday, February 24
8:00pm
Sunday, February 25
3:00pm
Tickets
Premium: $40 (Adult), $37 (Senior), $31 (Student)
Regular: $32 (Adult), $29 (Senior), $23 (Student)
Group Rates Available: Learn More
New: Please Note That Advertised Prices Include All Per Ticket Fees
Event Information
Running time: Approximately 2 hours
Intermission: Yes
Content Advisory: This play includes strong language.
Kid Friendly: Recommended for ages 13 & up - Please note that children under age 4 will not be admitted.
Synopsis
Set in 1944 at the United States Military's Fort Neal in Louisiana, this play looks at the racial tension and consequent unrest present in the ranks of African American soldiers during World War II.
Capt. Taylor, the white commanding officer on a segregated Army training base, has a problem. He commands a black company whose sergeant has been murdered. He is worried the murderer may be a white officer or the local Klan. A black captain, Richard Davenport, is assigned to investigate. Taylor tries to discourage him because he feels the assignment of a black investigator means the case is to be swept under the rug. Capt. Davenport perseveres and, as he probes deeper, he finds the black soldiers are as corrupted with hatred as the whites. Each one had a motive for the killing. Davenport solves the case and the truth is even more shocking than the murder itself.
A Soldier's Play was first presented Off-Broadway by the Negro Ensemble Company, under artistic director Douglas Turner Ward and managing director Leon B. Denmark, at Theatre Four in New York City on November 10, 1981. It was directed by Douglas Turner Ward and starred two actors who have become household names: Denzel Washington and Samuel L. Jackson.
Cast & Creative Team
Captain Davenport: JOSEPH TAYLOR
Captain Taylor: GRAYSON BERRY
Sergeant Waters: BELLAMY SHIVERS
Private Wilkie: MALIK ABDUL KHAALIQ
Private Peterson: TRAVIS WHITAKER
Corporal Cobb: TERRENCE BERRY
Private C.J. Memphis: AKIL BILLY
Private Henson: DAMIEN BERGER
Captain Wilcox: JOSEPH MULHOLLAND
Lieutenant Byrd: GRIFFIN HOLLAND
Corporal Ellis: COLLIN ROACH
Private Smalls: CHRISTIAN EDGHILL

Director: DARRELL LAWRENCE WILLIS, SR.
Rehearsal Stage Manager: JEROME ARTHUR JOHN
Production Stage Manager: GINA LUPI
Scenic Designer: ASHLEY CUSACK
Lighting Designer: ROMAN KLIMA
Costumes: PLAYTIME COSTUMES
Sound Design : JAN TOPOLESKI
Sound Board: JOE FICARRA
Master Carpenter: JASON GREENHOUSE
Light Board Operator: GEORGE SIGNORE
Credits
A SOLDIER'S PLAY
by Charles Fuller
A Soldier's Play is presented by special arrangement with SAMUEL FRENCH, INC.
An Algonquin Arts Theatre production.
Sponsors
Interested in sponsoring an event at Algonquin Arts Theatre? Call 732-528-4336 for information.