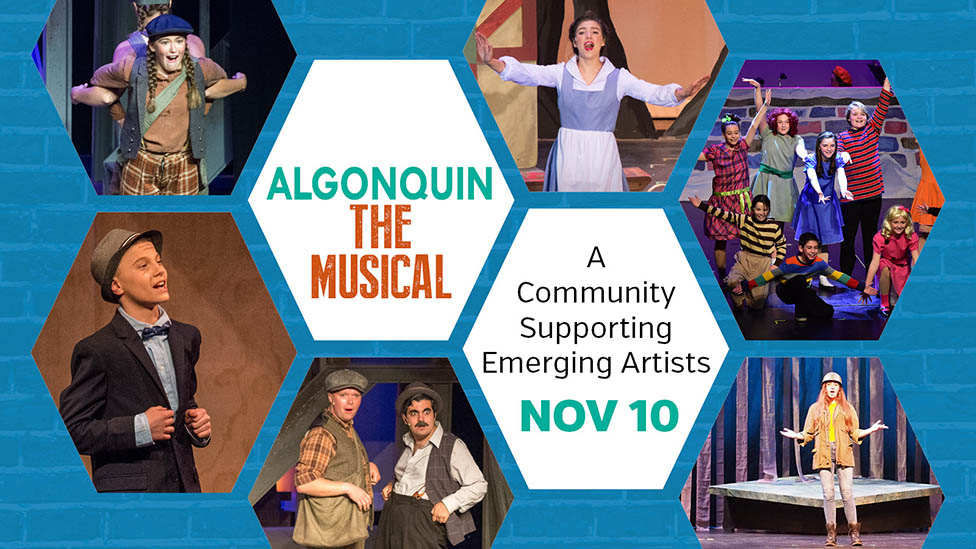 Fall Fundraiser
Algonquin: The Musical
Sunday, November 10, 2019
A Community Supporting Emerging Artists
Back for its second year, alumni from the Algonquin's Performing Arts Academy take the stage telling the story of why the Algonquin is such an important part of their lives.
Performances
Sunday, November 10
3:00pm
Tickets
Tickets
VIP: $75 (Limited to 80 seats; Includes 1 p.m. preshow reception with hors d'oeuvres, beer & wine)
Adult: $40
Student (4 & up): $20
Sponsorship Packages
$750 - Producer (2 available). Includes 2 VIP tickets and Inside Cover Ad (color)
$250 - Patron. Includes 2 VIP tickets and Full Page B & W ad
Event Information

Running time: 120 minutes
Intermission: Yes
Synopsis
It's time again for the Algonquin to tell our story, and our favorite form of storytelling is, of course, musical theatre!
Algonquin: The Musical is a celebration that features current and former students and teachers acting, singing and dancing, while sharing some stories as to why all of this matters.
All proceeds will be directly invested into our education programs including: Performing Arts Academy, Algonquin Youth Ensemble, Rising Stars, Teen Night, Page & Stage, Lifelong Learning, our Education Series and our Family Series.
Cast & Creative Team
Featured Performers (Students)
Sophia Creed
Bianca D'Anton
Marissa DeVeau
Matthew Evegan
Parlin Gressitt
Edward Itte
Alyssa Lego
Julia Lupi
Danny Marks
Jillian Moran
Analise Piemonte
Sylvia Ross
Jada Sanchez
Julia Scaffidi
Gavin Springer
Hannah Teza
RJ Vandenbrouck
Ensemble Performers (Students)
Avery Caccamise
Casey Finnegan
Emily Lemongelli
Kristin Parker
Paulina Ross
Tory Schmid

Featured Performers (Teaching Artists)
Tyler Cicardo
Nicole Clark
Nick D'Ambrosia
Frank Falisi
Anthony Giorgio
Gina Lupi
Julie Nagy
Pamela Ward

With a special appearance by cast members from Annie!
Creative Team & Teaching Artists
Nick D'Ambrosia
Nicolas Kaminski
Julie Nagy
Credits
Produced by Algonquin Arts Theatre
Sponsors
Janice Blanton
Carrie & Robert McGowan
Mona & John Kirk
Peter A. Flihan & Linda P. Hejduk