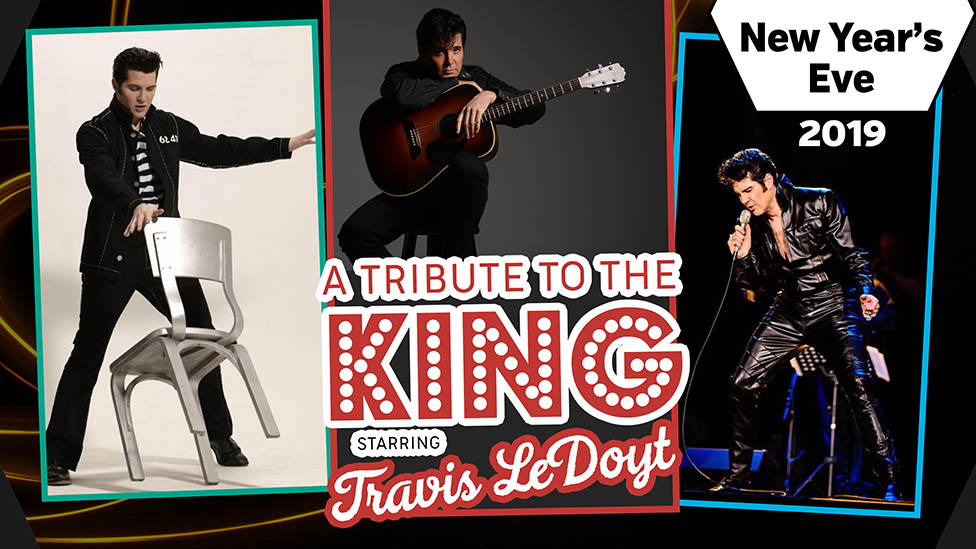 A Tribute to the King
Tuesday, December 31, 2019
Starring Travis LeDoyt
He looks like Elvis. He sings like Elvis. He moves like Elvis. He acts like Elvis. Join us New Year's Eve and you'll see why Travis LeDoyt is called the 'world's best young Elvis.'
Performances
Tuesday, December 31
6:00pm
Tuesday, December 31
9:00pm
Tickets
On Sale Timeline
Member Presale: On Now
General On Sale: July 30, 2019 at 12 pm
Pricing
Premium: $65
Regular: $52
Event Information
Running time: Approximately 2 hours
Intermission: Yes
Kid Friendly: Yes

Synopsis
Travis LeDoyt is known as "the world's best" at portraying young Elvis Presley in his prime in the 50s and 60s. His uncanny resemblance to the "King of Rock and Roll" has audiences gasping when he takes the stage. Once he begins to sing and dance, fans are truly captivated by the authenticity of LeDoyt's performance, even garnering high praise from those who knew Elvis personally. Sold out shows and repeat engagements around the world further attest to LeDoyt's impeccable ability to capture the very essence of "The King" and leave fans waiting more.
LeDoyt, who grew up in Greenfield, Massachusetts, was known as the "class clown" throughout school. Everyone expected him to do something that would put him in the public eye, but no one, including Travis expected it to be as a singer, let alone a tribute to Elvis Presley.
It all started with a dare to compete in a high school talent show, combined with Travis's discovery of a video of Elvis performing in the 50s. He was intrigued with the look, moves and voice of the King. Travis soon found himself mimicking Presley in the mirror at home. It was also amazing that when he combed his hair back he looked like Presley. He decided he would try to bring Elvis to life at the talent show and it was such a hit that he immediately began getting offers to perform. Since that time he has performed around the world in some of the most prestigious venues and in front of thousands upon thousands of fans.
Travis is currently touring with a three-piece band based in Nashville, performing songs from 1954 to 1970.
A big hit at fairs and festivals, LeDoyt has been the headliner for the Elvis Presley Festival in Tupelo, Miss. and Elvis Week in Memphis... as well as the Iowa State Fair; as well as many fairs and festivals.
Around the world, LeDoyt has entertained in England, Scotland, Luxembourg, Hong Kong, China, Canada and Argentina. He is also a headline entertainer for Royal Caribbean Cruise Lines, having worked for them for the past 8 years doing 10-15 cruises per year in the Caribbean, Hawaii, Alaska, and all along the East coast.
As an opening act LeDoyt has been honored to open shows for Little Richard, Johnny Rivers, B. B. King, Chuck Berry, Jerry Lee Lewis, Bill Haley's Original Comets and others.
The biggest compliment LeDoyt has received came from D. J. Fontana who was Elvis Presley's drummer in the 50s who said, "This is as close as you'll get to seeing a concert by Elvis Presley in the early years." Other accolades come from the New York Times who chose LeDoyt as the person who most looked like Elvis for a photo shoot and from entertainment reporter Ken Fuson of the Des Moines Register "I heard people all day talking about Travis LeDoyt so I went to see for myself. I thought Elvis was dead but I tell you he's alive – I just saw him perform. He's the surprise hit at the (Iowa State) fair."
Sponsors